Wells Fargo Supports Dallas Black Dance Theatre Cultural Awareness Series for 7th Season As DBDT Marks its 40th Anniversary
|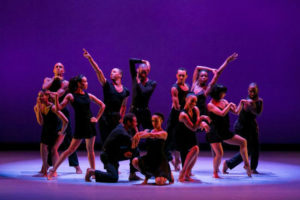 Wells Fargo celebrates Dallas Black Dance Theatre (DBDT) during its 40th anniversary season as presenting sponsor of DBDT's Cultural Awareness Series for the 7th consecutive year. The Cultural Awareness series will be held February 17-19, 2017 at the Dee and Charles Wyly Theatre in the AT&T Performing Arts Center.
"At Wells Fargo, caring for communities is embedded in our culture," said Wells Fargo Area President Scott Wallace. "We strive to create and support positive, lasting impact – socially, economically, and environmentally – through our business practices, philanthropy and community engagement. Cultural programs like this are one more opportunity for us to add to the quality of life in our communities.  We are honored to have supported Dallas Black Dance Theatre for more than 10 years and to serve as presenting sponsor for seven years, and look forward to continuing to partner with them for many years to come."
DBDT has commissioned veteran DBDT dancer/choreographer Sean J. Smith to create a work that brings the 40-year legacy of Dallas Black Dance Theatre to life on stage. In developing the concept for Interpretations Smith interviewed DBDT Founder Ann Williams, as well as former dance company members, staff and supporters integral in the formation of Dallas Black Dance Theatre. Interpretations is supported in part by an award from Mid-America Arts Alliance, the National Endowment for the Arts, Texas Commission on the Arts, and foundations, corporations and individuals throughout Arkansas, Missouri, Nebraska, Oklahoma and Texas.
Other works in the Cultural Awareness program include audience favorites by nationally acclaimed choreographers. Fort Worth native Bruce Wood© choreographed Smoke for Dallas Black Dance Theatre in 2001. DBDT will re-introduce its 2014 world premiere Memoirs by Garfield Lemonius, a former principal DBDT dancer and Booker T. Washington High School for the Performing and Visual Arts faculty member. Also performing Dallas native Darryl B. Sneed's …And Now Marvin, set to the tunes of Marvin Gaye. Prior to his death in 1997, Sneed was DBDT's Associate Artistic Director, resident choreographer and principal dancer. In 1932 Asadata Dafora choreographed Awassa Astrige/Ostrich, the solo dance that imitates the graceful, but powerful movements of the Ostrich. Dafora was one of the first Africans to introduce African drumming music to the United States in the early 1930's.
Cultural Awareness evening performances will be held Friday and Saturday, February 17-18, 2017 at 7:30 p.m. There will be a matinee performance on Sunday, February 19 at 2:30 p.m. For tickets call 214-880-0202 or visit www.ATTPAC.org.
For group ticket sales call 214-871-2390. All performances are at the Dee and Charles Wyly Theatre located at 2400 Flora Street, Dallas, Texas in the AT&T Performing Arts Center.
The student matinees are on Thursday, February 16, 2017 at 10:15 a.m. and 11:45 a.m. These performances are for school groups only. For student matinee ticket sales call 214-871-2376 Ext. 104.
2016-2017 | 40th ANNIVERSARY SEASON SPONSORS
Legacy Sponsor: Harold Simmons Foundation
Season Sponsors: Office of Cultural Affairs – City of Dallas, Texas Instruments, NBC 5, Yellow Cab, The Downtown Business News, I Messenger, American Airlines and The Dallas Weekly.
2016-2017 | Season Supporters
Season Supporters: Northpark Center, Texas Commission on the Arts, Art Works, National Endowment for the Arts, Lexus, OverseeMyIT, The Dallas Examiner, The Dallas Post Tribune, Elite News, BEHR Group Holdings, KSOC – Boom 94.5 and AT&T Performing Arts Center.
About Dallas Black Dance Theatre
Founded in 1976 by Ann Williams, Dallas Black Dance Theatre (DBDT) is the 10th largest minority arts organization in America, the fourth largest black dance company in the nation and the oldest continuously operating professional dance company in City of Dallas.
The mission of Dallas Black Dance Theatre is to create and produce contemporary modern dance at its highest level of artistic excellence through performances and educational programs that bridge cultures and reach diverse communities. With an ever-expanding national and global audience, the company employs a diverse, multi-ethnic troupe of dancers performing for audiences of all ages and backgrounds.
Located in the downtown Dallas Arts District, Dallas Black Dance Theatre is a nationally and internationally recognized professional modern dance company. DBDT engages the cross-cultural community through contemporary modern dance presented from the African American experience. DBDT is a resident company of the Dee and Charles Wyly Theatre in the AT&T Performing Arts Center.
Over the course of its history, DBDT has performed on five continents, in 15 countries and 31 states for 4 million arts patrons and 2.6 million students, grades K-12, and annually serves more than 100,000 people, including more than 20,000 youth.
Dallas Black Dance Theatre is comprised of five companies and an Academy. Dallas Black Dance Theatre's professional company, DBDT, consists of 12 full-time professional dancers performing a mixed repertory of modern, jazz, African and spiritual works by national and international choreographers. The company members hail from across the country, from California to Washington D.C., as well as from overseas, from British Columbia and Trinidad/Tobago.
DBDT: Encore! (formerly DBDT II) features eight artists of rising excellence from across the nation that support DBDT's growing local and regional educational outreach.
For more details visit www.DBDT.com
Dallas Black Dance Academy, the official school of Dallas Black Dance Theatre, celebrates 43 years of providing dance instruction to the community. Over 500 students participate weekly in 50 dance classes of ballet, jazz, tap, modern, and African at DBDT studios. The academy has three performing ensembles; Allegro, which is DBDT's premier academy ensemble, Senior Performing Ensemble, and Junior Performing Ensemble.
DBDT offers community outreach services to some 40,000 people annually through workshops, master classes, lecture/demonstrations, residences, mini-performances and student matinees that are designed level-specific for elementary, middle and high schools as well as college and university students.  20,000 of those reached are students in grades K-12 including 44 Dallas area schools and two Boys and Girls Clubs. The rest are in college, as well as community, recreation, and social service agencies.
For more details visit www.dbdt.com/academy
How many Negro churches do we have that are 100+ years old?  How did they do it?  Where in the city are they located? How did they survive and strive all of these years and live to celebrate it?
Such a list can only aspire to being comprehensive, rather than claiming to be complete.  But here lies an honest attempt to offer a brief glimpse into the prevailing religious and sustaining mood of the Negro Church.  This is so very important to generations coming and going.
Upfront and foremost, I need your help to complete this list.   So far this is what we have and not completely in order of years.
"The Colored Church" is 165 years old.  That is New El Bethel Baptist Church, Royce City, Texas, which was founded around 1853.  The current pastor is a dynamic young minister from South Dallas, Rev. Steven Gray.  New Zion Missionary Baptist Church, Rev. Rayford Terrell, Pastor, Joppa Community, is 135 years old.  New Hope Baptist Church, Rev. Ron Jones, Pastor, is 144 years old.  Greater New Zion Baptist Church, Rev. Joe S. Patterson, is 143 years old.  True Lee Baptist Church, Rev. Donald R. Parish, Sr., celebrated their 108th year on Sunday, January 14, 2018.  I was invited to the services alone with the Honorable Dwaine Caraway and Council Member Casey Thomas, City of Dallas.  True Lee Baptist Church chronicled their journey via year starting with the migration of families from Palmer, Texas, as True Vine Baptist Church.
Sidebar:  While Rev. Parish was at the pulpit, he asked Sandra L. Jackson to come and speak.  Ms. Jackson has deep roots and relatives in the church.  Sandra L. Jackson was amazingly very comfortable at the church microphone.  Her voice reminded me of another oratory speaking politician, Barbara Jordan, former distinguished U. S. Congresswoman from Houston who also grew up in the church.  After announcing her candidacy for Judge, 302nd District Court, she ended with her Christian journey, mentioning her father and the late Rev. Dr. J. K. Jones, her grandfather.  The church replied in applause.  Let me say the same thing that Rev. Parish said. . . 'We need Christians in politics'.  End of Sidebar.
Mt. Horeb, Baptist Church, Rev. B. J. Bradford is 100 years old.  The other names on the list so far are Salem Baptist Church, True Light and Munger Churches.   Morningstar Church on Anderson Street, Progressive Church on Dolphin Road.   Just a few but we know there are more.
Again, we need your help.  Let us hear from you.
Ester Davis is a celebrated writer, nominated for the 2018 Living Legends Award in April, 2018.  "The Ester Davis Show" times and location @ Esterday.com or 214.376.9000.