Long-time educator and community servant, Ada Williams, dies
|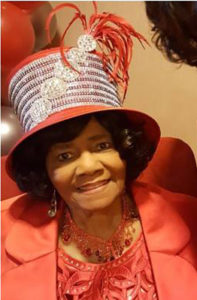 Ada L. Williams, a dedicated public servant to the Dallas Community, passed away on Wednesday, December 27, 2017 at the age of 84. She had been a Professional Registered Parliamentarian in the State of Texas since 1978.
Mrs. Williams was the current sitting Board Chairman of the Credit Union of Texas and had held that position since December of 1996. She was elected and served as Parliamentarian of the Dallas Independent School District Board of Trustees from 1988 through her retirement in 2002 where she served numerous Superintendents.
Because of her significant contributions to the Dallas Public Schools, the auditorium of the DISD Administration Building is named the Ada L. Williams Auditorium in her honor. Ada Williams served DISD as Director of Employee Relations during her career there. Former Texas Governor, Mark White, appointed Ada Williams to the State of Texas Credit Union Commission where she served a six-year term.
Mrs. Williams served as President of the Texas State Association of Parliamentarians. She immensely enjoyed her work helping a diverse array of organizations with matters of parliamentary law. Throughout her life and within the last week, she volunteered her services as a proctor for those taking the registered parliamentary exams.
She became a teacher in the Dallas Independent School District in 1955, where she taught math, science and music. She went on to serve as President of the Classroom Teachers of Dallas for four years. She was President and Parliamentarian of Delta Kappa Gamma Society International; Parliamentarian of the Dallas Retired Teachers Association. Mrs. Williams became the National Parliamentarian of Delta Sigma Theta Sorority, Inc. in 1979. She served 10 National Presidents as National Parliamentarian and in 2015 the organization named her National Parliamentarian Emeritus.
At the time of her death, Mrs. Williams was proudly serving as Trustee at the St. Paul African American Episcopal Church. She was also on the Board of Directors of the Maureen F. Bailey Cultural Foundation. Other organizational affiliations include: Texas Reading Association, National Association of Parliamentarians, Golden Life Member of Delta Sigma Theta Sorority with 65 uninterrupted years of service; YWCA Life Member; Dallas Arthritis Foundation. She received the National Association of Negro Business and Professional Women's Clubs, highest award – The Sojourner Truth Award.
Mrs. Williams held a Bachelors Degree from Huston-Tillotson College where she was Miss Huston-Tillotson. She also received a Master of Arts Degree in Education from the University of North Texas. She was a proud product of the DISD schools: a graduate of Lincoln High School and N.W. Harlee Elementary School.