O'DESSA BEATRICE MIMS JOHNSON WILL CELEBRATE 108 YEARS OF LIFE ON JANUARY 6, 2018 WITH FAMILY AND FRIENDS
|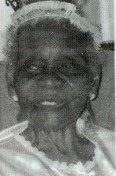 Beatrice (fondly known as Duss) was born on January 6, 1910 in Yard, Texas (Anderson County).  She was the youngest of 10 siblings born to London and Julie Mims.
Ms. Johnson contributes her longevity in her belief that through Christ all things are possible. She has lived her life as a 'Virtuous Woman' as described in Proverbs 31:10-31. Beatrice has been a member of the First Shepherd Baptist Church for many years and was the "church mother" until her health prevented her from attending church services regularly.
Her family has followed her Christian faith and believes her strong belief and obedience to God has become a source of strength and guidance for her entire family.
Beatrice has one living niece, Ruth Mims Holly of Anderson County who celebrated her 100th birthday on March 4, 2017.
Living children: Anna Faye Louis of Las Vegas, NV, Gider Brown, Betty Dawkins and Odell Spriggins all of Oklahoma City, OK.  Deceased children: Frankie Johnson, Queen Brown and James Phillips.
Beatrice's husband, Will Johnson died in 1983.
The remaining four of her seven children will celebrate the occasion on Saturday, January 6 in Oklahoma City, OK where Beatrice resides.
The Dallas Post Tribune family sends a special birthday wish to "Aunt Duss", Happy Birthday!