South Dallas Club partners with Carter High School for SAFE Encounters Program
|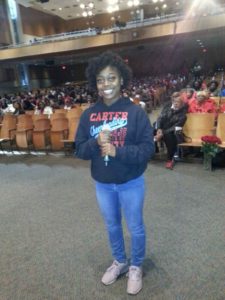 The historic South Dallas Business and Professional Women's Club held their annual SAFE Encounters Program on the campus of David W. Carter High School on December 8, 2017. Its thematic purpose initiated by the National Association of Negro Business and Professional Women's Clubs, Inc. is to provide young people valuable information to aid them in successfully interacting with law enforcement, when such encounters become necessary.
An "Open Mic – Talk Back" dialogue was held between Carter High students and special panelists from the Southwest Division of the Dallas Police Department. A combined 353 seniors and juniors assembled in the school auditorium to witness the event.  Mr. Jonathan C. Smith, Carter's campus principal, gave a hearty welcome to the South Dallas Club and to officers from the Dallas Police Department.  Dallas ISD Trustee Joyce Foreman brought greetings from the school district.
Other program participants included Frances Langston, South Dallas SAFE Encounters Committee Chair and Committee members Candy Bradshaw, Kay Hunter and Brenda King Murphy. Carter High School's band and JROTC opened the program with "The Star-Spangled Banner" and the posting of colors. The occasion was given by Gwendolyn H. Daniels, president of the club.
SAFE Encounters was created by Dr. Lavern J. Holyfield who serves as the Association's National First Vice President and is responsible for the organization's programming efforts across the nation.
For more information on the South Dallas Business and Professional Women's Club, Inc., visit their website: southdallasbpwc.org, their Facebook page: @southdallas1954; or their Instagram site: southdallas1954.