Rep. Conyers says he's resigning to preserve legacy
|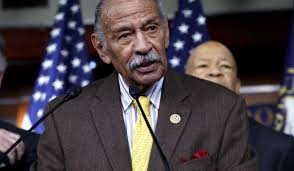 (AP) – Rep. John Conyers says he's resigning from Congress "to preserve (his) legacy and good name."
Conyers said in a statement Tuesday that he's not being afforded "due process" to defend himself against sexual harassment allegations made by former staff members. He's also citing his "current health conditions" as a factor in his decision to step down.
Rep. Sheila Jackson Lee, a Texas Democrat, read the statement from the 88-year-old Conyers on the floor of the House. She served with Conyers on the House Judiciary Committee.
Conyers says he's been a champion for the oppressed and the disenfranchised, and that he "never wavered in (his) commitment to justice and democracy."
Conyers says he hopes his retirement will be viewed in the "larger perspective" of his more than 50 years as a lawmaker.