The Decor Group Honors First Responders and Military Community with Patriotic Pines Donation to Dallas Police Department
|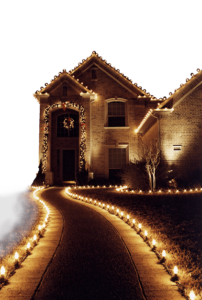 DALLAS – The Decor Group, a local holiday lighting and decorating company, will be donating Patriotic Pine Christmas trees and a garland American flag to the Dallas Police Department on November 29, 2017. The ceremony will take place in the Police Department lobby at 2:00 p.m. where leaders from The Decor Group team, Patriotic Pines, the police department, and military members will gather to show support and bring awareness to military and first responder communities in the Dallas area.
"We could not be more honored to meet with members of the Dallas Police Department to share some patriotic decor for the holiday season," said Brandon Stephens, president of The Decor Group.  "At a time of year when many spend their days with family and loved ones, others do not have that luxury. They are the brave men and women of our armed forces and first responders protecting our country and daily way of life. These efforts are the least we can do for those who risk their lives of us daily."
Christmas Decor, a Decor Group brand, will be donating the red, white, and blue Christmas trees and garland flags to military families, VA hospitals, VFW lodges, military recruiting stations, local police stations, and fire departments across the country this holiday season. All efforts are in support of a newly formed partnership between The Decor Group and Birds Eye View Project to honor U.S. military members and first responders who cannot be home for the holidays.
"We have taken the humble symbol of the American flag and created a line of products that allow each and every American to show their support and thanks for military families, veterans, and first responders," stated Rayan Parrott, former Navy SEAL and founder of Birds Eye View Project. "We aim to spread a message of unity, pride, and support for our brave men and women at a time when our country needs it the most."
The Decor Group is a 20-year-old leader in the holiday decor and lighting industry. With known brands like Christmas Decor and Barcana, it provides individuals and business across the nation and Canada with the best in holiday decorating services and products. The Decor Group is proud to organize programs like Christmas Decor's Decorated Family Program, which accepts nominations for deserving military families to have their homes decorated professionally for the holidays free of charge.
For more information on The Decor Group, please visit https://www.thedecorgroup.com/
About Christmas Decor
Since its inception in 1986, Christmas Decor has risen to become the premier holiday lighting and decorating company in North America. The Texas-based company was founded by Blake Smith as an off-season supplement to his landscape business and as a method to provide year-round work for employees. Christmas Decor quickly emerged as a viable business opportunity and today, operates in more than 300 markets in 49 states and Canada. Christmas Decor is highly revered in its field and has received consistent recognition for its efforts, including its popular Decorated Family Program which has been featured on The TODAY Show, TIME.com, CNN and FOX, among others. For more information, visit www.christmasdecor.net.
About Birds Eye View Project
Birds Eye View Project generates awareness and raises funds for charities supporting veterans and first responders. Former US Navy SEAL Ryan "Birdman" Parrott, and other Veterans offer an up close and personal look at the extreme needs of veterans and first responders, as well as the people and organizations working to help them realize nothing is impossible, even the most extreme challenges. 2017 Beneficiary organizations include: Sons of the Flag, Carry the Load, 22Kill, Adaptive Training Foundation, America's Mighty Warriors, Base Camp 40, Rebuilding Warriors, and Rosecrance Florian.  Visit #Birdseyeviewproject and www.birdseyeviewproject.org for more information.