Brehanna Daniels goes into NASCAR history books as first Black female crewmember
|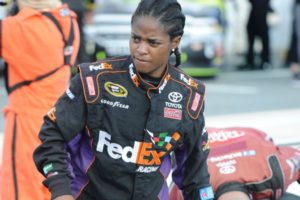 (AP) – During a NASCAR Truck Series race back in June, Brehanna Daniels made history at Dover International Speedway when became the first African-American woman to pit a car in one of NASCAR's national series races. She was on pit road the next day in the XFINITY Series as well.
Daniels played basketball at Norfolk State before being recruited into NASCAR. The 23-year-old made it through the various levels of tryouts for pit crew members and is now the sport's first African-American female tire changer.
For her first Truck Series race, she was the tire changer for Cody Ware's No. 50 Chevrolet, which finished 18th in the Bar Harbor 200. The next day in the XFINITY Series, she was part of the pit crew for Mike Harmon's No. 74 Dodge, finishing 25th.