TechCo Savvy hosts "Dodge TH!S" charity dodgeball tournament
|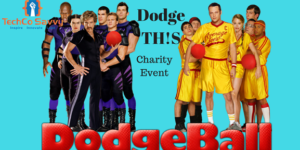 Dallas, Texas – TechCo Savvy invites you to "Dodge TH!S," a charity dodgeball tournament on Saturday, November 4, 2017 at the MLK Recreation Center, located at 2922 MLK Boulevard. All proceeds benefit Techco Savvy's mission to inspire, innovate and empower under resourced youth with the knowledge, prowess, tools and confidence to become trailblazing leaders within their communities through computer programming.
Teams can register for $250 by completing the online registration form at www.techcosavvy.com/event, with each team guaranteed to play 2 games. Teams should have at least 6, but no more than 10 players. Kids ages 10 and up are welcome to enter. A trophy will be awarded to the winning team.
"Dodgeball is a fun game for kids and it's an opportunity to give adults the chance to be a kid again," says Lawon Williams, Founder and President of TechCo Savvy. "Once you remember how it feels to be a kid, you are better equipped to understand and provide them with a better path to adulthood," he says.
The tournament starts at 12:00 PM. Tickets are available online at dodgeths.eventbrite.com. Tickets are $10 for adults and $5 for kids.
For information on how to become a sponsor or donate, visit www.techcosavvy.com.
About TechCo Savvy
Founded in 2015, TechCo Savvy is a leading provider of technology education to youth in the South Dallas area with the goal of developing a STEM-focused networking space for youth creating a pathway to careers in the computer science industry.