Dallas Regional Chamber's 2017 Principal For A Day Aligns Business Community with Dallas ISD
|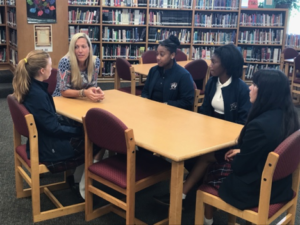 DALLAS – On October 5, Dallas Regional business and community leaders once again shadowed Dallas ISD principals to gain an exclusive, behind-the-scenes look at our local education system during 2017 Principal for a Day, presented by Capital One.  The event provided volunteer "Principals" with the opportunity to read to students, observe classes, attend student performances, make morning announcements, and participate in other activities that define a typical school day.
"The Dallas Regional Chamber is excited to partner with Dallas Independent School District and Capital One for the annual Principal for a Day," said Dale Petroskey, president and CEO of the Dallas Regional Chamber. "This is one of our most popular events every year for CEOs and executives. Principal for a Day gives our region's business and community leaders a unique opportunity to experience a day in the life of today's students, who will become tomorrow's workforce," Petroskey said.
"At Capital One, we've found that you get the best results by getting more involved in the community and making a more concentrated effort to help.  Principal for a Day is a prime example of these efforts," said Tiffany Cason, Dallas Market President of Capital One Bank.  "When we do that, we open  up opportunities for our youth and, in many cases, you inspire them to be their very best."
The DRC works with companies and regional partners to align the priorities of the education system and business community to build a sustainable, highly trained workforce for business in the Dallas Region in the future. This event represents the DRC's goal of working with educators to prepare students for their professional careers, and underscores our strong commitment and partnership with Dallas ISD.
"Principal for a Day is our premier partnership development program," said Superintendent of Schools Michael Hinojosa. "By walking side-by-side with our principals, these business and community leaders learn firsthand what it means to be an urban school administrator by taking the daily responsibilities and challenges of leading a school. It also gives students an opportunity to engage with and be inspired by individuals from various careers."
Several notable business and community leaders volunteered to participate as Principals for a Day, including Franciso de la Torre Falindo, Consul General of Mexico in Dallas; Bob Sturm, Radio Talk Show host for The Ticket Sports Radio; The Hon. Roberto Alonzo, Texas State Representative; The Hon. Cindy Burkett , Texas State Representative;  and The Hon. Bob Hall, Texas State Senator.
Follow the conversation online by using @DRChamber and @dallasschools and #PDFAD2017.