NFL may change policy that players 'should' stand for anthem
|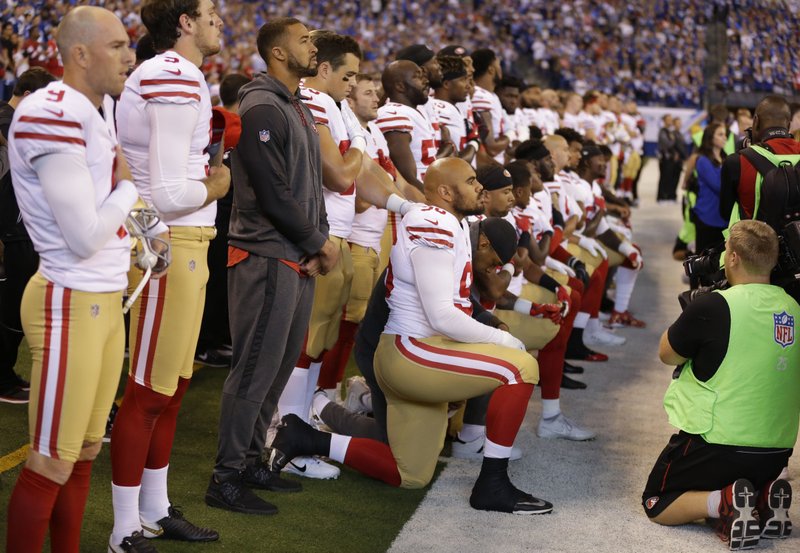 Members of the San Francisco 49ers kneel during the playing of the national anthem before an NFL football game against the Indianapolis Colts, Sunday, Oct. 8, 2017, in Indianapolis. Vice President Mike Pence left the 49ers-Colts game after about a dozen San Francisco players took a knee during the national anthem Sunday. (AP Photo/Michael Conroy)
(AP) – NFL owners will meet next week to consider changes to a game manual that says players "should" stand during the national anthem, a guideline the league has left to the discretion of players who kneeled in large numbers after criticism from President Donald Trump.
Commissioner Roger Goodell told club executives Tuesday in a memo obtained by The Associated Press that the anthem issue is dividing the league from its fans. He said the NFL needs "to move past this controversy."
NFL spokesman Joe Lockhart said the guidance will be "front and center on the agenda" when owners meet in New York next Tuesday and Wednesday.
The movement started by former San Francisco 49ers quarterback Colin Kaepernick last season over his view of police mistreatment of black males had mostly subsided when Trump told a rally in Alabama last month that owners should get rid of players who kneel during the anthem.
In his memo, Goodell reiterated the league's belief that everyone should stand for the anthem and outlined plans to highlight efforts of players trying to bring attention to the social issues behind the game-day protests. Goodell said those plans would be presented to owners next week.
"The controversy over the anthem is a barrier to having honest conversations and making real progress on the underlying issues," Goodell wrote. "We need to move past this controversy, and we want to do that together with our players."