In the Wake of Vegas, Dallas City Officials with the DHA Pull Together for the Roseland Homes Community
|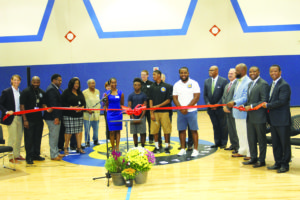 DALLAS – In the true sense of "Dallas Strong," Mayor Mike Rawlings, Councilman Kingston, new Dallas Police Chief Hall, Dallas' Assistant City Manager Jon Fortune, Dallas Housing Authority (DHA) Board Chair Albert Black, DHA Board Member James Garner, DHA CIO David Zappasodi, the Dallas Wings Senior Vice President Charles Johnson, the Dallas Wings youth basketball instructors, Behind Every Door, community leaders, the Roseland Partners (many are local churches), and more came together to show their support for the Roseland Homes community center reopening! With more than 315 people in attendance, the event highlighted the city's mission to strengthen affordable housing developments and ensure residents feel connected to the resources, as well as leaders, in their community. And in the wake of the tragedy in Las Vegas, the community felt inspired by our leaders collaboration.
Mayor Rawlings said this at the event, "I think about what Las Vegas is going through today and what we went through in July 2016. You get through times like this by pulling together as a community…by building together afterwards. The work that we are doing tonight helps makes us a stronger community – a stronger city. The kind that is weaving that basket so tight, that it'll never come apart. Thank you to the Dallas Housing Authority board, Troy and everyone who helped make the Roseland Community Center reopening possible. The sense that everyone needs to live in a great place, a great community…that's what it's all about."
Following the ribbon cutting, the youth residents enjoyed a special basketball shootaround with the Dallas Wings youth basketball instructors. Roseland residents expressed their excitement for the new community center's facility, weight room, game room, community lounge area and the overall mission towards rebuilding, revitalization and growth. Youth residents were given free books, games and other educational materials.