At least 59 killed, more than 500 wounded in Las Vegas during the 'deadliest mass shooting in modern U.S. history'
|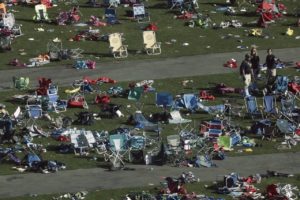 (AP) – The rapid-fire popping sounded like firecrackers at first, and many in the crowd of 22,000 country music fans didn't understand what was happening when the band stopped playing and singer Jason Aldean hustled off stage. By Monday afternoon, 59 victims were dead and 527 injured in the deadliest mass shooting in modern U.S. history.
"You just didn't know what to do," Akiyoshi said. "Your heart is racing and you're thinking, 'I'm going to die.'"
The gunman, identified as Stephen Craig Paddock, a 64-year-old retired accountant from Mesquite, Nevada, killed himself before officers stormed Room 135 in the gold-colored glass skyscraper.