NEW AFRO-URBAN COLORING BOOK ALL ABOUT GIRLS STARTS A BROWN & BLACK CRAYON CONVERSATION
|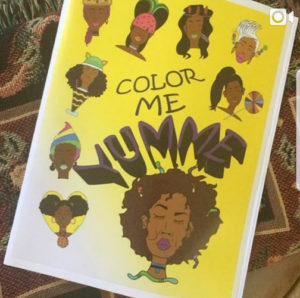 Yumme Brand is a new afro-urban art company focused entirely on designing art that creatively mirrors the images of African American girls on lifestyle products.  Creator of Yumme Brand, Taaj Marjanee, has begun introducing Yumme Brand with her new coloring book COLOR ME YUMME.
COLOR ME YUMME features beautiful chocolate faces from her Sweet Dreamzzz collection.  Each of the characters are colorfully mixed with trendy hair styles and sweet treats.  The eyes are drawn closed to show that all 20 girls are dreaming about their favorite sweet treat.
"Color Me Yumme" is bringing about this conversation to help young black girls feel good and dig into their creativity without having to color a girl that is drawn with European features to try and make her look black. This coloring book is bringing about self-love and self-identity to little girls who need to see more products with their likeness on it", says Taaj.
The free coloring book tour made its first stop at Stetson Branch Library in New Haven, CT on Saturday, September 16th.   "As a Black Librarian and Branch Manager of a library that serves the largest Black populated neighborhoods in New Haven, CT, I wholeheartedly endorse COLOR ME YUMME Coloring Book…created by us for us!  For it is a fact that Black children benefit in so many ways when surrounded by positive self-images", says Branch Manager Diane Brown.  Diane is an award winning librarian and is encouraging libraries around the country to open their doors for Color Me Yumme.
As of today 3 more libraries are serving has host for the Brown & Black Crayon Conversation.  To get your library on the tour email:  yummebrand@gmail.com (subject line: Brown & Black Crayon Conversation)