DeMaurice Smith re-elected as head of NFL players' union
|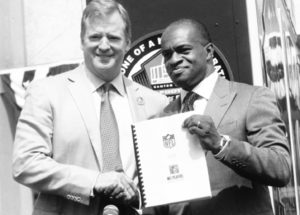 By BARRY WILNER
AP Pro Football Writer
DeMaurice Smith has been re-elected as executive director of the players' union in a special committee vote.
Under guidelines passed since his last election as NFL Players Association head in 2015, a 14-player selection committee could bypass a full membership election. That committee, made of up the 11 members of the NFLPA executive committee plus the three longest-serving player representatives, reviews the sitting executive director. That group can then call for an election to keep the incumbent in office, and the vote must be unanimous.
The 14-0 vote took place Tuesday night.
Attorney Cyrus Mehri, who had launched a campaign to oppose Smith in a general election in March, called the re-election "a non-democratic process" and vowed to continue working toward having a full election of the membership in March.