PRESIDENT TRUMP ANNOUNCES END OF DACA
|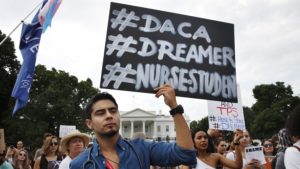 Ending DACA will expose nearly 1M young people to deportation.
Austin, Texas – Today, President Donald Trump announced through Attorney General Jeff Sessions that his administration will end the Deferred Action for Childhood Arrivals (DACA) deportation relief program established under the Obama administration in 2012.
State Rep. Eddie Rodriguez serves as Policy Chair of the Mexican American Legislative Caucus, the oldest and largest Latino legislative caucus in the nation.
State Rep. Eddie Rodriguez issued the following statement regarding the announcement:
"DACA was always meant to be a temporary fix, a common-sense stop-gap measure to codify prosecutorial discretion until Congressional Republicans stopped obstructing bipartisan immigration reform. But the deportation relief and work permit DACA put within reach changed countless lives for the better.
"DACA has meant something different to each of its recipients, with one thing in common: freedom.
"There's nothing more American than what DACA recipients have done with the limited freedom the program has granted them. They have graduated from college, become teachers, started businesses, raised families, and contribute billions of dollars per year to our economy.
"The end of DACA could be devastating for our country unless there is a congressional fix. Students will withdraw from college for their inability to pay, families will lose income as primary breadwinners lose their work permits, and our economy will suffer for the loss of entrepreneurship and economic activity. Our GDP will bear a loss of $433 billion over 10 years if we do not remedy this short-sighted political maneuver.
"In light of today's announcement, the Republican-controlled Congress must debate the bipartisan Bridge Act in a show of good faith. Folks on both sides of the aisle agree that we need to set aside partisan politics and work on comprehensive immigration reform or bad actors will use the issue to drive our country apart for personal gain. Comprehensive immigration reform and a path to citizenship for Dreamers are long overdue.
"I have been inspired by the passion of the young folks I've met fighting to defend DACA. Despite this setback, I know that they will continue organizing and making forward progress."