Rev. Jackson joins Rev. Sharpton and 1,000 Religious Leaders at 54th Anniversary of Dr. King's March on Washington
|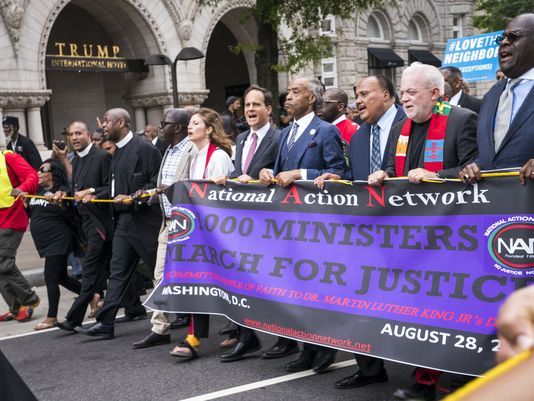 CHICAGO:  Rev. Jesse L. Jackson, Sr. will join Rev. Al Sharpton, head of the National Action Network (NAN) and more than 1,000 religious leaders Monday, August 28, 2017, to celebrate the 54th anniversary of Dr. Martin Luther King, Jr.'s March on Washington and to protest President Donald Trump's moral leadership.
The One Thousand Ministers for Justice's 1.7-mile march will begin at the King Memorial on the National Mall at 10 a.m. and end at the Department of Justice where controversial Attorney General Jeff Sessions oversees the enforcing of Trump's controversial immigration policies.
The march is being held in commemoration of Dr. King's Jobs and Freedom march on Washington where he delivered his "I Have a Dream" speech. "We will march for jobs, justice, education, healthcare and equality. This is not a new struggle for America. Our dignity is non-negotiable," said Rev. Jackson.
Trump is under fire for blaming both sides of a white nationalist protest in Charlottesville, VA where the KKK and Neo-Nazi groups clashed with counter protesters resulting in the death of Heather Heyer. To add insult to injury, Trump said there were "good people on both sides." Rev. Jackson said Trump's remarks "have encouraged" white national groups. "WW II is over. It's time for healing."
Trump's remarks led to a number of resignations from his corporate commissions and the removal of Confederate statutes and memorials. The backlash on how Trump handled the Charlottesville protest has united the faith community including Jewish, Christians and Muslims.
The march also comes on the heels of an outcry over what Rev. Jackson calls the Trump administration's "inhumane" immigration policies where 58,000 Haitians, 300,000 Temporary Protected Status (TPS) and 58,000 former residents of Central America are being ordered out of the country.
Rainbow PUSH Coalition is a multi-racial, multi-issue, progressive, international organization that was formed in December 1996 by the Reverend Jesse L. Jackson, Sr. through merging of two organizations he founded Operation PUSH People United to Serve Humanity (estab. 1971) and the Rainbow Coalition (estab. 1984). With headquarters in Chicago and offices in Washington, D.C., Atlanta, Detroit, Houston, Los Angeles, New York and Oakland, the organization works to make the American Dream a reality for all citizens while advocating for peace and justice around the world. RPC is dedicated to improving the lives of all people by serving as a voice for the voiceless. Its mission is to protect, defend and gain civil rights by leveling the economic and educational playing fields while promoting peace and justice around the world.