LAS VEGAS WELCOMES RAIDERS WITH OPEN ARMS, BIG HOPES
|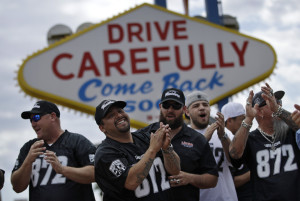 (AP) — A city famous for its over-the-top persona is eagerly welcoming an NFL franchise that boasts an equally outsized reputation and the promise of big-league legitimacy for the desert gambling oasis, which up to now has seen major sporting events just passing through.
Las Vegas is no stranger to big time events catering to all tastes. Champion boxers lace up their gloves at glitzy hotel-casinos on the Strip. Thousands turn out for NASCAR races. The National Finals Rodeo rides into town every year.
With the addition of an NHL expansion franchise, the Vegas Golden Knights, and as of this week the Raiders, Las Vegas believes it has arrived as something substantially more than a one-off venue.
Jubilant state and local officials were quick to welcome the team after the league's relocation approval Monday. Sports fans who had been confined to minor league baseball and an assortment of lower-division hockey teams gathered downtown to celebrate Monday night.
On Tuesday, the state's largest newspaper proclaimed "Touchdown, Vegas!" on its front page.
"We've needed a sports team in this city for a very, very long time," Las Vegas resident Sean Manchanda said. "If football works well in Green Bay and other tier II cities like Jacksonville, even Phoenix, it will work in Vegas. Locals are very much in support."
But with a population base of 2.2 million and nothing but desert on the outskirts, local interests and the Raiders are banking that the city's lifeblood tourism industry will help fill the 65,000 seats of the domed $1.9 billion stadium.
Nevada officials expect 450,000 people a year to travel to Las Vegas with the main purpose of attending an event at the stadium, whether it's a Raiders or UNLV football game, a concert or motorsports event. For the project to meet revenue projections, officials say the facility will need to see an attendance of nearly 2 million people every year.
At least one economist says the math doesn't hold and history proves tourists aren't reliable supporters of sports teams.
"It is completely over the top," said Roger Noll, economics professor emeritus at Stanford University and an expert on the economics of sports. "They are projecting roughly 10 times the number of tourists in attendance per game than any other team in the league."